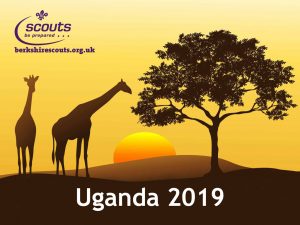 Once again Berkshire Scouts are planning a trip to Uganda in July 2019 to give our young people the opportunity to help develop their scouting skills, cultural awareness and give help to other young people less fortunate than themselves.
Project Africa is a long term international community development programme run by Berkshire Scouts https://berkshirescouts.org.uk/uganda2019.php in Partnership with Soft Power Education http://www.softpowereducation.com (a British charity in Uganda) to support schools, teachers and local communities help secure a good education and start in life for children in poor rural communities in Africa. The expedition will take place at the end of July 2019 for a 3 week period. Young people and leaders from across the County including the 3 Scouts from 1st Aldermaston Scout group will make a real difference to local and rural communities in Uganda. Whilst in Uganda the young people will work on building improvement projects and learn about life and culture in Africa.
Please take time to look at the project on our fundraising page set up @thegoodexchange and donate if you can.
https://app.thegoodexchange.com/project/12121/1st-aldermaston-scout-group/project-africa—-uganda-2019—-aldermaston-scout-group